Getting here
As you plan your trip, remember: Bloomington is in the Eastern Time Zone (ET) and observes daylight saving time. Be aware that the conference takes place in Bloomington, Indiana. (Don't accidently travel to Bloomington, Illinois!)
By Plane
The Indianapolis National Airport (IND) is the closest airport to Bloomington. Though it is about an hour from our campus, you have several options for traveling. You can borrow a rental cars at the airport. There are taxi services and rideshare options. Please keep in mind that these run at about $60-90 one way. There is a shuttle bus which is priced at $23 for each trip between Indianapolis and Bloomington.
By Car
Map your drive to Indiana Memorial Union (900 E 7th St, Bloomington, IN 47405). This is the venue for most of the conference activities including where you will register on Saturday, June 1.
Parking Here
IU offers free parking on campus evenings and weekends. Please click here for details. Please mind all parking enforcement signs and be conscious that you're parking in the proper lot.
For the rest of the week, you may purchase a temporary university parking permit when you arrive for registration. The cost is $10.00. Willkie parking permits can be purchased during check-in at Willkie's center desk.
IMU Hotel
The conference offers complimentary parking for all hotel guests. If you are staying at the IMU, you may park for free.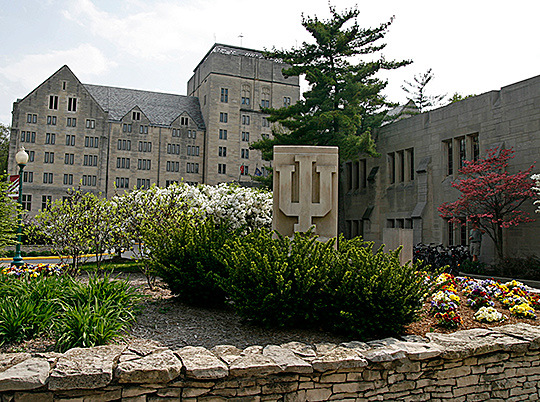 Staying here
The Indiana Memorial Union (IMU)
Bloomington offers many hotels and bed-and-breakfast options in the downtown area, which is within walking distance (15 minutes or so) from the conference. The most convenient location is the Indiana Memorial Union (IMU) Biddle Hotel, located on the campus of Indiana University, where most events of the conference take place. The room rates are between $138 (single queen bed) and $178 (two queen beds) plus tax.
You may reserve a room online or by calling:
Toll-free reservations: (800) 209-8145
Main IMU Switchboard: (812) 856-6381
You may also stay at the Willkie Quadrangle dormitory, located within a walking distance (15-20 minutes) of the IMU. IUWC has a block of rooms reserved at Wilkie. The cost is $49.90/person per night + tax. You may pay for this during the registration process. You may also log back into your registration account to reserve a room and pay after you have registered for the conference.
Main Wilkie Switchboard: (812)-856-4804