History
The Indiana University Writers' Conference is the second oldest, continually-operating writers conference in the United States. 2021 marks the 81st anniversary of the conference which, since its inception, has stood for literary excellence. We are proud to boast a faculty that has included lauded writers of the post-WWII years, such as Katherine Anne Porter, Lillian Hellman and Stephen Spender, as well as 20th century icons Raymond Carver and Kurt Vonnegut.
Recent faculty have served as Poets Laureate and received some of the most prestigious literary prizes. We have 26 faculty members who have won Pulitzer Prizes, such as Gwendolyn Brooks, Héctor Tobar, Tyehimba Jess and Ursula K. Le Guin. We have also hosted 26 faculty members who were winners of the National Book Award, including Gerald Stern, Jean Valentine, Mark Doty and Terrance Hayes.
Beyond our tremendous faculty, we have been honored to reach and preserve relationships with writers at every stage of their development across the country. Our intention is to foster creativity and community through craft-based workshops and classes that facilitate learning and artistic friendships. We also emphasize a supportive environment for writers of color, LGBTQIA writers, and writers from outside the academy to feel seen and heard.
Format
Each summer, the conference invites gifted writers of fiction, poetry and nonfiction to teach workshops and craft classes over the course of four days. The workshops consist of three-hour sessions held each morning in which students exchange manuscripts and offer feedback on the work of their peers under the guidance of their instructor. At the end of each day's workshop, students are invited to lunch talks where the faculty discuss their publishing experiences and answer questions from attendees.
The afternoons are comprised of three, one-hour classes led by additional faculty on topics ranging from story structure and the ethics of writing nonfiction to crafting compelling images in poems. Each evening is capped off by a reading and from conference faculty.
We hope you join us for all the great experiences we have planned!

Bob Bledsoe, Director
Bob is Director of the Indiana University Writers' Conference. He has been awarded a fellowship at The MacDowell Colony, and his writing has appeared in Ploughshares, Potomac Review, Fifth Wednesday Journal, Exit 7, Ms. Magazine, and The Habit of Art: Best Stories from the Indiana University Fiction Workshop.

L. Renée, Associate Director
L. Renée is a poet and nonfiction writer from Columbus, Ohio. She is a third-year MFA candidate at Indiana University, where she has served as the Nonfiction Editor of Indiana Review and as Associate Director of the Indiana University Writers' Conference.
Her work has received support from the Fine Arts Work Center in Provincetown, Minnesota Northwoods Writers Conference, Kenyon Review Writers Workshop and Martha's Vineyard Institute of Creative Writing. Her poems have been published or are forthcoming in Tin House Online, Poet Lore, the minnesota review, Appalachian Review, Southern Humanities Review, Poiesis, New Limestone Review, and the Women of Appalachia Project's Women Speak anthology. You may occasionally find her @lreneepoems on Instagram.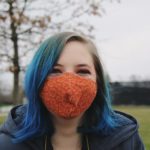 Cami Albers, Intern
Cami Albers is a Junior at Indiana University studying animal behavior. She has minors both in psychology and creative writing and is interested in the motivations behind people's actions. Her favorite authors include Jennifer Lynn Barnes, Anthony Horowitz, Rainbow Rowell, and Maureen Johnson. When she is not reading or writing, you can find her crocheting at home with her three cats.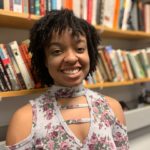 Alicia Harmon, Intern
Alicia Harmon is a junior majoring in interdisciplinary sociology/African American and African Diaspora Studies and minoring in creative writing, Spanish, and psychology. Along with being an intern for IUWC, she is a columnist with Indiana Daily Student Black Voices. She has published a short story titled "Blue" in Prairie Margins. Outside of classes and writing, you can find her reading, working out, and dancing to old music.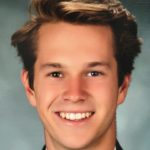 Henry Marken, Intern
Henry is a junior majoring in media management, law, and policy with a creative writing minor. Being a long time fan of creative writing, Henry has been creating his own content for years in the form of producing videos, running podcasts, and of course, writing stories. In his free time, he is currently working on a science fiction novel about the wars and conflicts that follow a deadly virus.