Bloomington is the fourth largest independent city in Indiana. It is home to one of the liveliest and most beautiful college campuses in the country and welcomes over 40,000 students every year. Surrounded by lakes, quarries, and miles of tree-covered rolling hills, Bloomington is a lovely city to explore and make home.
It is also home to many award-winning restaurants.
Dining
Kirkwood Avenue features some of the best restaurants in the city. 4th street is home to a wide variety of ethnic food choices, including Anatolia, as pictured on the right. 3rd street features Mother Bear's Pizza, one of the finest pizzerias in the country. The possibilities for unforgettable eating experiences are endless from Thai, to Mediterranean, to Mexican.
Irish Lion: Traditional pub food with an extensive bar and upstairs dining room.
Uptown Cafe: A sit-in restaurant and cocktail bar for all tastes.
FARM: A seasonally-inspired restaurant featuring southern Indiana classics.
Village Deli: Breakfast and Brunch comfort food.
Runcible Spoon: Featuring vegan specials and gourmet sandwiches.
Soma Cafe and Pourhouse Cafe are two of the many comforting coffee shops around Bloomington.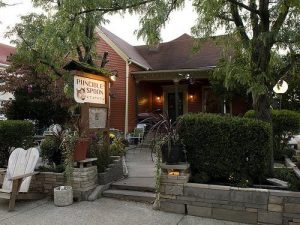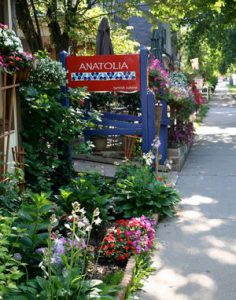 Bars and Nightlife
In order to become a writer, Bukowski postulates: "stay with the beer. / beer is continuous blood. / a continuous lover." Bloomington, of course, is here to lend its assistance–
The Root Cellar:This underground bar has a dance floor and weekly karaoke.
The Bishop: Bloomington's premiere beer bar. The drinks are cheap and the bartenders are friendly.
The Cade: With a five dollar cover, this bar offers unlimited video games with drinks inside.
Back Door: Our queer bar has a host of delicious drinks and the best dance floor in Bloomington.
The Atlas: The Atlas has a collage of interesting objects to discuss over good cocktails.